A Taste of Italy - Our Tiramisu Recipe
What dessert could ever beat this Tiramisu recipe at the end of a meal? In English the name means pick-me-up and that is exactly what this delicious treat of coffee and chocolate will do.
Tiramisu is a recipe that was invented in the Veneto region of Italy, in the town of Treviso which is near Venice. Not that long ago either - 1971 to be exact. Apparently a local restaurant owner invented it as a treat for his son. 
The Veneto is where my wife Maria's family are from and you can discover plenty more on this fantastic region, from Venice through to Verona, over on her website. 
There's also a wonderful recipe for tiramisu on Maria's website, exclusively shared with her by the lady who wrote the book on tiramisu.
Maybe try this one and that one and let us know which you prefer?
I am often asked if tiramisu contains alcohol and the answer is... no, not in the original. The chef who is believed to have invented it made it as a pick-me-up for his son before his school exams. However, many recipes now include it.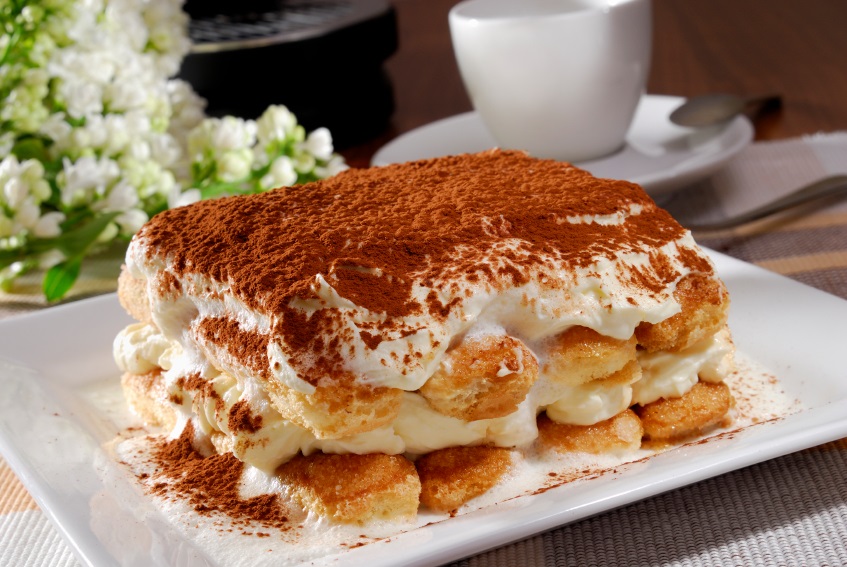 Ingredients
4 tablespoons of good quality espresso coffee
1 tablespoon of Grappa (the original recipe doesn't include grappa but I love adding a little)
3 eggs, separate the whites and the yolks.
1/2 cup sugar
8 ounces of Mascarpone cheese
24 Savoiardi biscuits
1 ounce of sweet chocolate, grated
Cooking Instructions
 In a small bowl, combine the coffee and grappa; set this aside
 In a medium bowl, beat the egg whites until stiff and set this aside.
 In a large bowl, beat the egg yolks together with the sugar until thick and lemon colored. Add the mascarpone and blend together. Gently fold the egg whites into the cheese mixture.
 Lay half the biscuits along the bottom of a 10 inch (25 cms) square baking dish or else on a larger serving plate. Sprinkle with half of the coffee mixture.
 Cover with half of the cheese mixture, and repeat process. Refrigerate the tiramisu for 4 hours before serving. Serve sprinkled with grated chocolate.
Print this recipe...

If you enjoy my site I'd love your support.

All you need do is book your accommodation via this link, or any of the other hotel links on the website. Whether it's for travel to Italy... or anywhere else on earth, your support means the world to us.
You'll get the best deal available, and the income helps us stay independent and to keep bringing you the best of Italy.