Login with your member password below to see your content

Why not become a Supporter?
Click the more info button to see what we offer...
Castro on Lake Iseo: your stepping-stone to a perfect getaway
You've probably heard of northern Italy's 3 famous lakes. Maggiore, Como and Garda: long stretches of blue water nestling in the folds of the lower Alps, their shores peppered with villages that draw tourists by the boatload.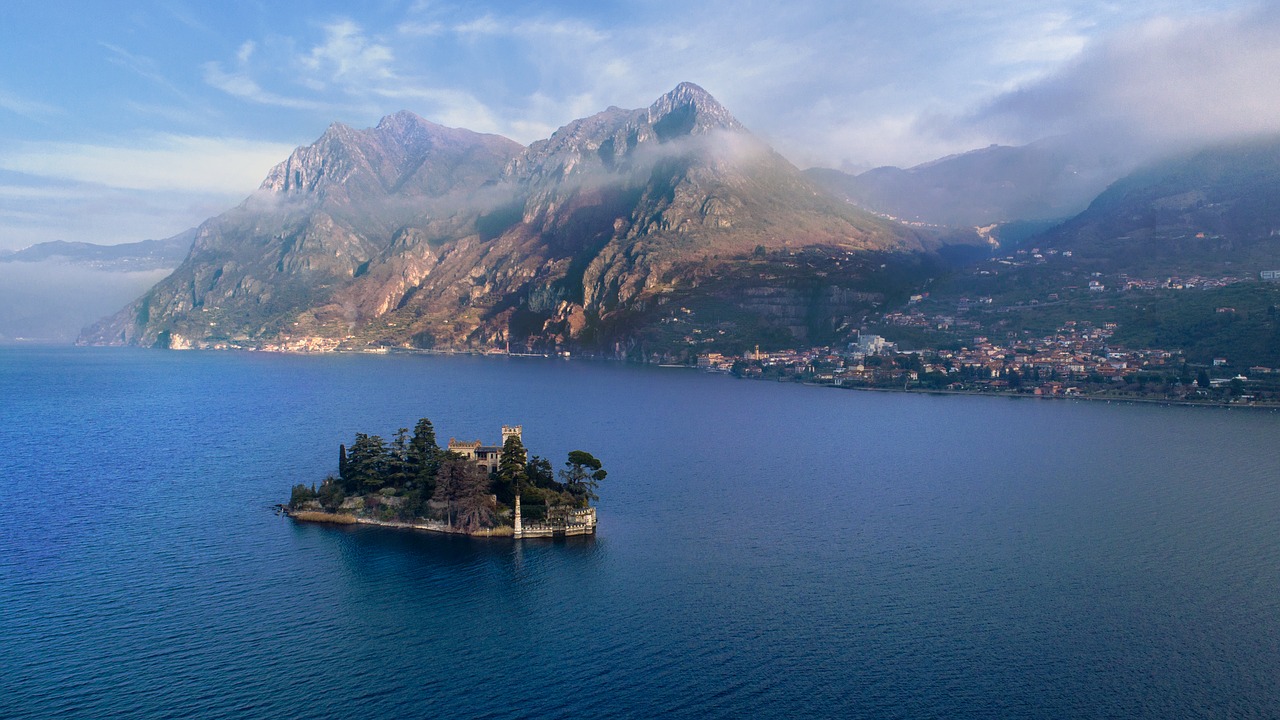 There's also a fourth, affectionately known as the 'pearl of Italy's lake district.' 
The brochures all use terms like 'undiscovered gem' to describe it, but really, while Lake Iseo is certainly not on the Hollywood A-list and is hardly frequented by foreign tourists or the George Clooneys of this world, Italians have been living and holidaying there for centuries.
Like its bigger, more popular sisters, Lake Iseo is studded with rustic fishing villages and hamlets, all connected by the prettiest coastal road you'll ever see.
In fact, the whole of Lake Iseo is pretty as a picture. Its crown jewel, the wooded island of Monte Isola, is a magnet for beauty-seekers and intrepid hikers wanting to wander its fairy forests and climb up to its perfect chapel.
The town of Lovere is officially one of the most beautiful in Italy. And right on its doorstep, literally blending into it, is Castro, a lesser-known village on the lesser-known lake that is as rewarding as Lovere, just quieter.
It ticks many of the same boxes: it has the same coastal road with its rocky overhangs; a wonderfully atmospheric promenade complete with a tiny marina; a trattoria or two; and roads that snake up to terraces, on which stand pastel-colored houses looking onto the water.
Castro is the ideal stepping stone from which to explore.
Where to Stay on Lake Iseo
Our own preference is Iseo Lake. It's right on the waterfront so can be noisy in season, but Maria won't stay anywhere else. The décor is just so chic and modern: wide screen TV, private bathroom, hair-dryer. Everything is new, works and is functional; with the warm personal service being a nice counterpoint. This B&B is right by Lovere and the ferry point, so one gets to where one wants to go fairly easily, nourished by a breakfast that doesn't disappoint.

For good measure, and being that it's so close by, your final option is in Lovere. We haven't stayed there ourselves, but the Torre Antica Apartment has been recommended to us on countless occasions.   
Food
Okay, so Castro isn't the home of haute cuisine – although my son may disagree, as it does boast a corner pizza place: the Ristorante Pizzeria Il Cantu which, to be fair, serves the authentic article, as well as those vital Italian staples: pasta, wine, tiramisu, espresso and gelato. What more does a person need, I ask you?
The menu at Trattoria Vulcano, by the Iseo Lake B&B, is more extensive. As you'd expect, there's a catch-of-the-day, your choice of pastas, meat dishes, etc. It's honest Italian fare, although is not a reason in itself to visit Lake Iseo.
A reason to visit Lake Iseo is to be found up the road, in Lovere once again, where there are literally dozens of eateries. The one I'm referring to is Parole Osteria. I had pan-fried perch, pulled from the water that very day. It was a memorable dish to say the least. Like so many great restaurants, the place is not much to look at from the outside; and the dishes themselves are unpretentiously plated. But it scores on taste, and is reasonably priced. 
Great value considering the setting. 
Activities on Lake Iseo
Monte Isola
Castro, for its quietness is a perfect base of operations. Those operations should at some point include taking the ferry to Monte Isola: a fairyland complimented by that picture-perfect chapel at its apex.
The 2 ancient fishing villages belong to an era where time moved slower. In Peschiera, for example, you'll still find women sitting under porticos, mending nets as they've done for centuries.

Mainland
The mainland is also a paradise: wooded and rugged and old and quiet and settled and historic. Words are poor substitutes. Even pictures, that can better express the seasonal changes, just can't reflect the diversity of color and mood. 
In every village, there's any number of unique attractions. Most have their own church. Even Castro has a church. Two in fact. One old and deconsecrated, one new and active.
Watersports? Take your pick. Fishing? Get a permit. 
It's all here. Iseo is a wonderland, a world around a lake.
Directions
Brescia and Bergamo are your closest towns. Both have airports. The Lake is well connected to roads, can be reached by bus, and there's a useful railway running from Brescia up the eastern shore through the valley to the north. Having a car is always a good idea; and trips out to Verona, Milan, Venice are an option. But, once you're here, I'm betting you'll to want to stay where you are.

Map