Christmas In Italy
or just a weekend break...
What better way is there to spend Christmas than spending it in Italy? None that I can think of! Having spent many a Christmas in Turin I can highly recommend you do the same.
If you need a hotel in Turin the Principi di Piemonte is a good one.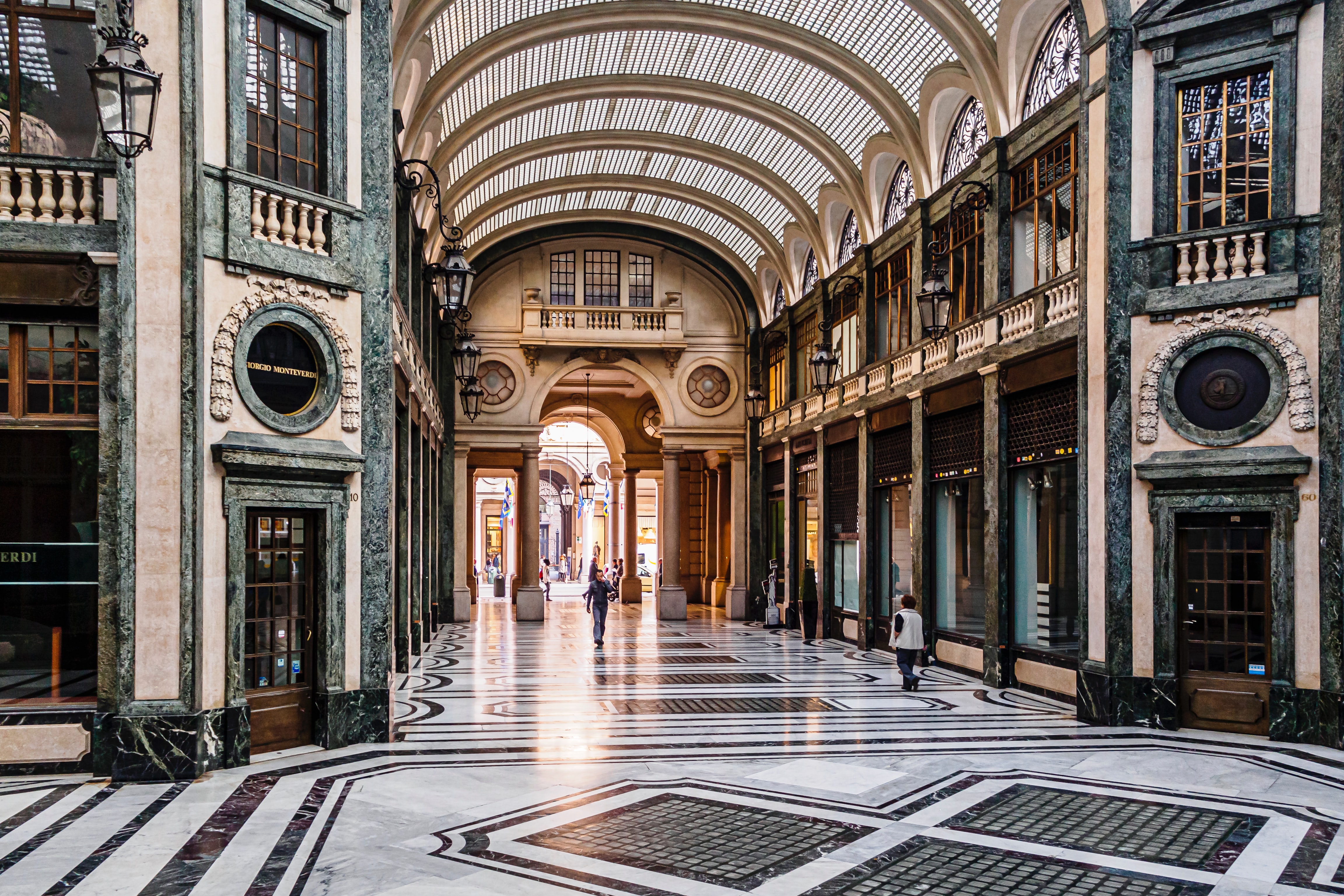 Galleria San Federico shopping gallery near the Principe di Piemonte
Whether you are planning to spend Christmas, a long weekend, or Easter then this hotel is perfect, set right in the heart of the main shopping and nightlife area of Turin.
Don't just take my word for it - check out what previous guests have said.
Turin may not have as many luxury hotels as Venice, but the Principi di Piemonte stands out as one of the most appealing options in the city. As a language model, I don't have personal experiences or feelings, but I can describe the hotel's features and surroundings.
Located in the heart of the city, the Principi di Piemonte offers easy access to some of the most remarkable sights and experiences in Turin. Whether you're interested in exploring the city's rich history and architecture, indulging in its renowned culinary scene, or shopping for high-end fashion and luxury goods, you'll find it all within walking distance of the hotel.
Upon arrival, you'll be welcomed by the hotel's understated elegance and sophisticated decor, which exude a sense of refined luxury without being overly flashy or ostentatious. The lobby is spacious and beautifully furnished, with marble floors, comfortable seating areas, and large windows that allow plenty of natural light to filter through.
The guest rooms are equally impressive, with large, comfortable beds, tasteful furnishings, and modern amenities that ensure a comfortable and relaxing stay. The hotel has recently been refurbished, and everything has been updated in a way that preserves the classic charm and character of the building. The result is a perfect blend of old-world charm and modern comfort.
One of the best features of the Principi di Piemonte is its ideal location in the heart of the city. From here, you can easily explore Turin's many landmarks and attractions, including the Royal Palace, the Mole Antonelliana, and the Egyptian Museum. If you're interested in exploring the city's culinary scene, you'll find plenty of excellent restaurants and cafes nearby, serving up everything from traditional Piedmontese cuisine to modern fusion dishes.
If you're looking for a bit of retail therapy during your stay at the Principi di Piemonte, you'll be pleased to know that the hotel is located in a prime shopping area. Just steps from the hotel, you'll find Via Roma, one of Turin's most elegant shopping streets. Here, you'll find an array of high-end shops and boutiques, offering everything from designer clothing and accessories to luxury home goods and beauty products.
Some of the most notable shops on Via Roma include Galleria San Federico, a historic shopping arcade that's home to a variety of upscale boutiques and art galleries, and Ratti, a luxury department store that carries a wide range of designer brands.
If you're looking for something a bit more unique, you might want to venture out to some of the city's more offbeat shopping areas. The Quadrilatero Romano, for example, is a historic district filled with winding streets and hidden alleyways, where you'll find a mix of vintage shops, artisanal craft stores, and gourmet food markets. It's a great place to explore if you're in the mood for something a bit more unconventional. 
Overall, Turin offers a wide range of shopping experiences, from high-end luxury boutiques to quirky vintage shops and everything in between. And with the Principi di Piemonte located right in the heart of it all, you'll have easy access to all of the city's shopping hotspots. Here's our full guide to shopping in Turin.
Despite the hotel's impressive features and amenities, getting a booking can be a bit challenging. The Principi di Piemonte is a popular choice among visitors to Turin, so it's important to book well in advance to secure your spot. If you're lucky enough to snag a room, however, you're in for a treat - the Principi di Piemonte is one of the best luxury hotels in the city, and it's sure to leave a lasting impression on you.
For more hotels in Italy use our search engine below

Discover the wonders of Christmas in Venice with Maria's Insider's Guide to the magnificent city!


If you enjoy my site I'd love your support.

All you need do is book your accommodation via this link, or any of the other hotel links on the website. Whether it's for travel to Italy... or anywhere else on earth, your support means the world to us.
You'll get the best deal available, and the income helps us stay independent and to keep bringing you the best of Italy.