Login with your member password below to see your content

You entered an incorrect password. Please try again.


Corinaldo - A Magical Place
Ever watched those movies set in Italy, where quaint medieval villages of golden stone nestle amidst rolling hills? Corinaldo is where those movies become real.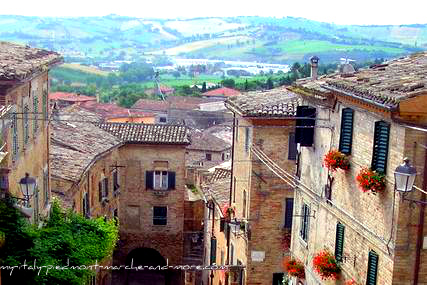 A thousand years of history comes alive within the ancient medieval walls of this delightful gem of a village. The town is surrounded by rolling hills and the sense of timeless peace is unbeatable.
If you really want to get away from it all and see how the other half live (simply but well) Corinaldo is a very good place to do it. This is the sort of town that truly enchants.
Where to Stay
Hotel Palazzo Meraviglia  is my choice. It's set in a gorgeous palazzo dating back to 1490 and is an experience all of its own.  They've a pool a short walk from the hotel and offer free bikes.
I really appreciated the bikes as nothing can beat exploring the countryside around here by bike... although some of the hills had me pushing more than cycling. I'm not the world's greatest cyclist :-(
What to See
There is a fair amount to do and a good place to start is with a walk around the 15th century town walls, which are among the best preserved in all of Italy. 
Corinaldo is full of lovely churches and impressive buildings, dating back from the 13th century to the 18th century. The town hall, the Santuario di Santa Maria, and the Church of San Francesco are just a few of them but the very helpful Tourist Office in Largo XVII Settembre 186 will gladly provide you with maps and details of the others. 
Then there are the one hundred steps that lead up through the old stone houses, offering stunning views across the surrounding countryside (the photo at the top of the page was taken from the steps).  If you do nothing else, at least take a walk up these steps... locals call them the Stairway to Heaven.
When to Visit
Definitely May - it is in May that everything is green and lush, flowers overflow balconies and line the lanes in a delightful riot of reds, yellows and blues. 
The other fun time to visit is when the local festivals are held - there are a number of them.  Most famous is the Pozzo della Polenta, held the third Sunday in July, it dates back to the 16th century and has to do with someone dropping the polenta down the well which, as you'd expect, leads to a fierce competition between the various parts of town. 
The other major festival is Feste delle Streghe - a witch festival held on 31 October.  It's like an Italian style Halloween party...  I much prefer the Pozzo della Polenta.
What to Eat in Corinaldo
Try to make time too for a lunch or dinner at the ai9 Tarocchi in Viale Dietro le Monache 8. Two famous dishes from this area are Vincigrassi (a local version of lasagna) and Cinghiale alla Cacciatora (Hunter's Wild Boar) and sometimes they are on the menu. If they are then you'll be in for a treat.  
A good way to explore the area is to rent a villa in the surrounding countryside and hire a car. This is the perfect way to immerse yourself in the atmosphere of this area. Need ideas on places to rent in Le Marche? These are my picks.
Where is Corinaldo?