The Magnificent Riviera
of Monte Conero & Portonovo
My little son's favourite place in le Marche, The Riviera of Monte Conero is a land of exquisite beaches lapped by the waters of the Adriatic and offering stunning scenery.
The perfect place for a family holiday, it is also a fantastic place for a great vacation with friends, or for that romantic escape.

Monte Conero - Where to Stay

If you need a good hotel in the area then Napoleon's Fort (Fortino Napoleonico), right on the sea, in Portonovo is the best option. 
In Portonovo too is the Hotel Internazionale Portonovo which is now a very good choice having recently been completely refurbished.  It is a more affordable alternative to the fort; a good choice should the fort be fully booked...and it often is. 
Exploring Conero
Monte Conero, dominates the area, looking like it belongs elsewhere, rising up from a coastline that is otherwise completely flat to the north and to the south.
Do you enjoy hiking and walking? This whole area is ideal.
I enjoy the Anello di Portonovo hike through the National Park. It takes about ninety minutes, taking it slowly, but it really depends on your level of fitness. I take the full ninety minutes but many would no doubt do it in an hour. The vistas along the way are unforgettable.
The whole National Park has a network of very well marked paths so do it yourself hiking is very easy. 
Portonovo
Portonovo is the place the locals of le Marche go. It is also the first stop south on the way from Ancona which, if you have taken one of the many cheap flights on offer (click here to find the best deals), will be where you arrive from.
It is truly picture postcard gorgeous, immersed in nature, with the sea on one side and the lakes of Lago Grande and Lago Profondo on the other. I can promise you that, unless your heart is made of stone, it will be a case of love at first site
If your visit to Italy wouldn't be complete without some history thrown in then you won't be disappointed either. First up is the watch tower built in the early 18th century to defend the town from pirates and then there is the beautiful little eleventh century Church of Santa Maria.
For a great view, and some more history, it is well worth the effort to drive up to Badia di San Pietro, a hotel in what was once a Benedictine Hermitage; built in the twelfth century. This is as far up that a car will get you, if you want to go higher up the hill you will need to hike.
Portonovo itself has only a few hotels (click for a list of them) and some good camping sites. The pick of the hotels, as I mentioned earlier, is just a short stroll from the beach in the old Napoleonic fort built in 1808.
The fort also has a great restaurant, serving delicious local specialities; while dining there try the famous local wine the Rosso Conero. You'll be in for an unforgettable evening.

When to Visit
The best time to come is late May through early July or otherwise in early September. The weather in Le Marche is ideal then, not to hot just absolutely perfect. Late July and August things get pretty crowded and it is nearly impossible to get a booking anywhere.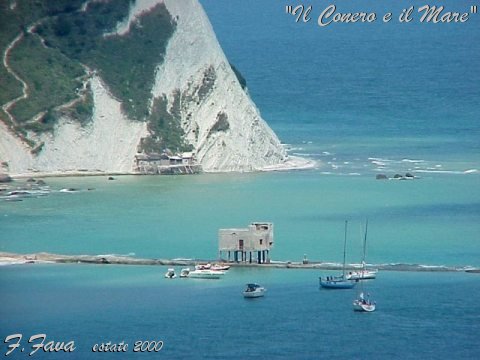 Where is Portonovo & Conero?
Love Italy? Why not subscribe to my monthly newsletter, My Piedmont and Marche Top Tips. It lets you know what information I have added and provides you with even more insider advice on my Italy.

Please be so kind to support our family through difficult times when you next travel.
All you need do is book via the search box below, or any of the hotel links elsewhere on the website. It can be for travel to Italy... or anywhere else on earth.
You'll get the best deal available and the income we receive helps us to:
Stay independent and to keep bringing you the best of Italy.
Never have to accept money from hotels directly - meaning that we can share only those we genuinely love.
Mar 15, 21 08:26 AM

Mar 08, 21 09:34 AM

Mar 04, 21 07:05 AM

The Sacra di San Michele looms menacingly over the entrance to the Val di Susa in Piedmont. Legend has it that it was built by angels.

Mar 03, 21 08:40 AM

Everyone knows the Cinque Terre and the Amalfi Coast but there is somewhere just as lovely with hardly any tourists? It's Tellaro!

Mar 02, 21 11:40 AM

What are the tax rates in Italy? Are there tax incentives for moving to Italy? What about inheritance tax? All your questions about tax in Italy answered.

Mar 01, 21 03:45 AM

There are hill towns in Tuscany where life goes on as it always has, where few tourists venture. Yet this Tuscany enchants as much as the other and maybe more?