Dreams of Living in Positano Come True
I'm very jealous of my friend Nicki. Why? Well, because she is lucky enough to live in Positano on the gorgeous Amalfi Coast. Here's her story of how she managed to end up living in paradise...
Ever dreamed of living in Positano? Sometimes dreams just happen to come true. Here's my story of how a visit turned into forever...
Once upon a time I decided to spend a summer in Italy, learning the language and taking a break from London. That was the summer of 1999 and I ended up never going back home.
A lot of people dream about living in Positano or the Amalfi Coast, but I never meant to stay.
I certainly didn't expect to fall in love, give birth in a foreign language, bring up a bilingual child, renovate a house and grow my own vegetables!

Our House
We live in a house that my husband built with his family in a valley above Positano. The only drawback is that there are 465 steps to get to the house from the road which is the equivalent of about 17 floors and no elevator! The house had been empty for about 14 years until we decided it was worth renovating and moving in.
We came up with a plan that I would design and my husband would build, so we have been lucky enough to turn an abandoned building into the house of our dreams. The gardens have always been used by my husband's family to grow vegetables and fruits. I love the fact that I can step outside and pick my own dinner fresh from the garden.

My Life in Positano
In the winter season (from November until Easter) living in Positano is very quiet with hardly any visitors.
Most hotels, restaurants and shops are closed so we take the opportunity to spend time with friends, hiking in the mountains, cooking together and exploring places nearby like Naples, Caserta, Capri and further afield.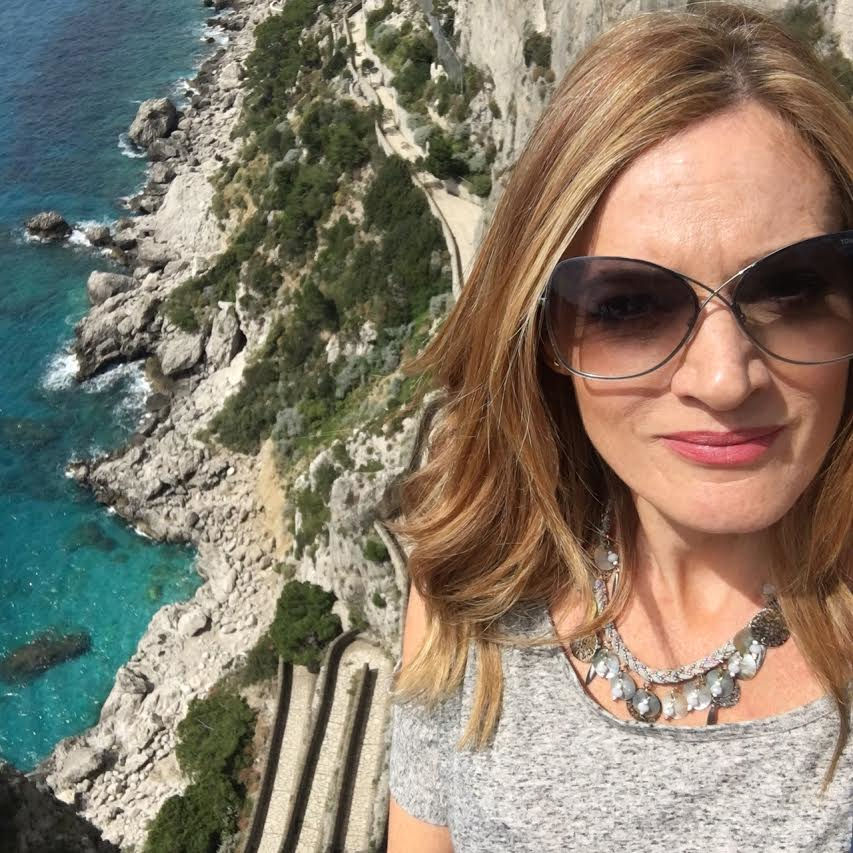 Me on the isle of Capri
Often, the temperatures can be quite mild and get pretty warm on the beach, so we will head down for a lazy beach picnic. In fact, last Christmas, the weather was so good that we organized a beach barbeque instead of a traditional Christmas lunch.
The town comes back to life at Easter; all the shops, restaurants, and hotels start reopening. Positano becomes a bustling tourist resort, and visitors start arriving in droves.
I am a makeup artist, so I spend the summer season traveling around the coast working on weddings, photoshoots, and the occasional TV show.
Weddings are fun because I get to see inside all the beautiful villas and hotels, and I often share a sneaky tour on Snapchat!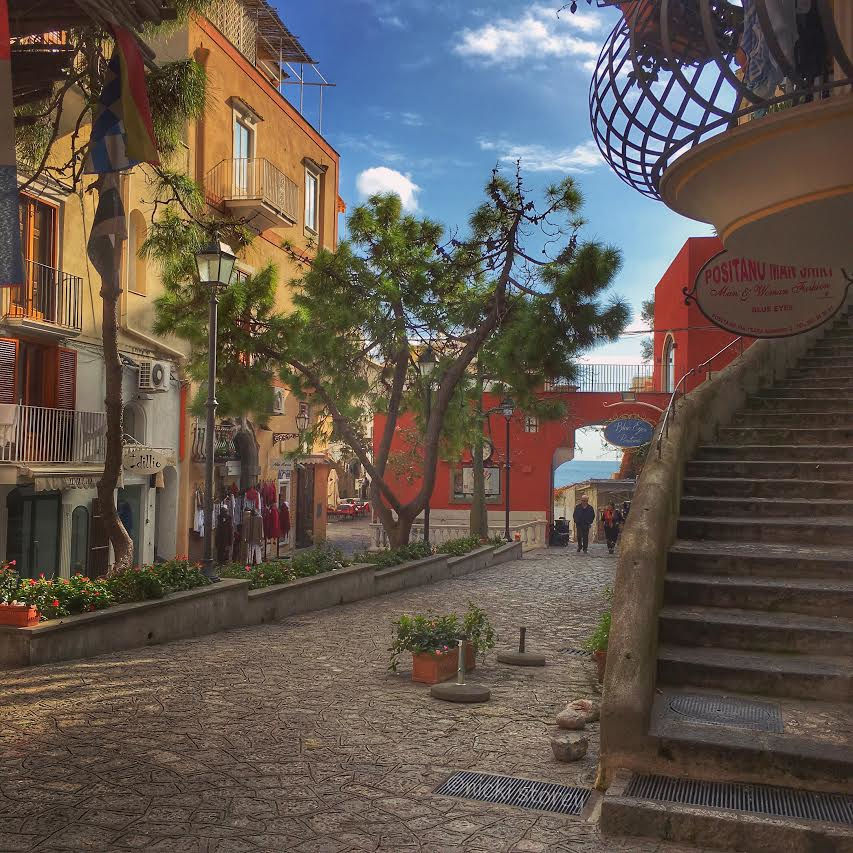 Dog Goes Kayaking
One of my favourite things to do, which I recommend to anyone who can swim, is kayaking along the coast. I have my own kayak and my dog loves to come with me, sitting on my lap or balancing on the back.
Along the coast there are lots of little beaches to pull into and quite a few caves to paddle into and explore. Some caves have the same light effect as the blue grotto in Capri, except they are free to enter and there are no crowds inside. There are Kayaks and stand up paddle boards available to rent from most beaches.

Climbing & Hiking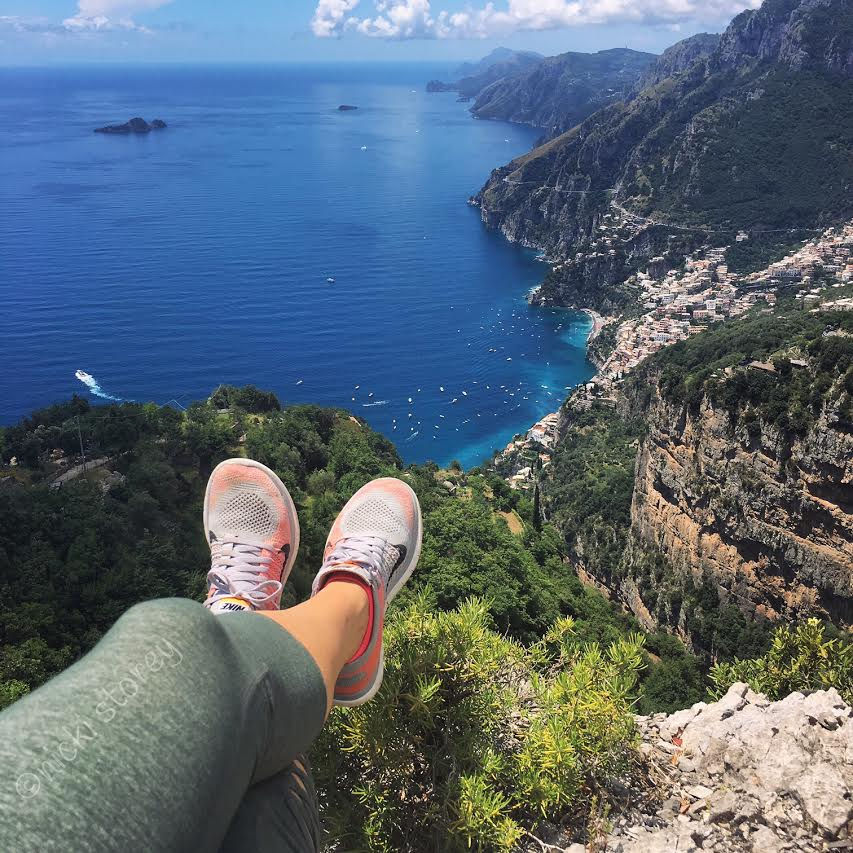 Positano also is a great place for rock climbing with around 300 routes to choose from in the area. There are also endless possibilities to go hiking. Positano is know as the Vertical City so pretty much every time you go out you end up hiking up or down the mountain. But there are some great routes to take if you are up for a bigger challenge.
The Pathway of the Gods is the most well known and can get busy, especially in October, but there are many other routes to explore. You can pick up a guide book or map at any newsagents or even book a guide.

Where to Stay on the Amalfi Coast
Here are some of the very best hotels on the Amalfi Coast including the Villa TreVille shown in the photo above.
Where to Eat
Many friends come to stay throughout the summer and we all love to sit on the jetty for drinks in the early evening, sometimes followed by takeaway pizza from the Covo Bar. We eat dinner out at least once a week, some of my favourite restaurants are Mediterraneo, Bar Bruno, Wine Dark House and La Tagliata.

For lunch I will often stop off for a healthy salad or smoothie at Casa e Bottega. Beach lunches happen a lot, either at Da Ferdinandos or Da Adolfos.
How to Get to Positano
The easiest way to get to Positano is by taxi. It is not cheap but you will get a door to door (or steps) service with no hassle of changing trains or bus etc. Positano Limousine Service is one of the best.
If you can't fork out for a private car then you will have to rely on public transport. There is a very handy airport bus that goes between Naples Airport and Sorrento for €10. You would then have to get a different bus from Sorrento to Positano. There is also a train service from Naples to Sorrento and if you are travelling in high season there might be a direct ferry link from Naples to Positano. It is worth checking online beforehand though.
If you want to see what everyday life is like on the Amalfi Coast and join me for daily walks around Positano, hikes on the mountains and kayaking along the coast in the summer follow me on Youtube, Instagram or Snapchat. @nikinpos.
If you enjoy my site I'd love your support.

All you need do is book your accommodation via this link, or any of the other hotel links on the website. Whether it's for travel to Italy... or anywhere else on earth, your support means the world to us.
You'll get the best deal available, and the income helps us stay independent and to keep bringing you the best of Italy.