Serralunga d'Alba - Tiny, Charming, Timeless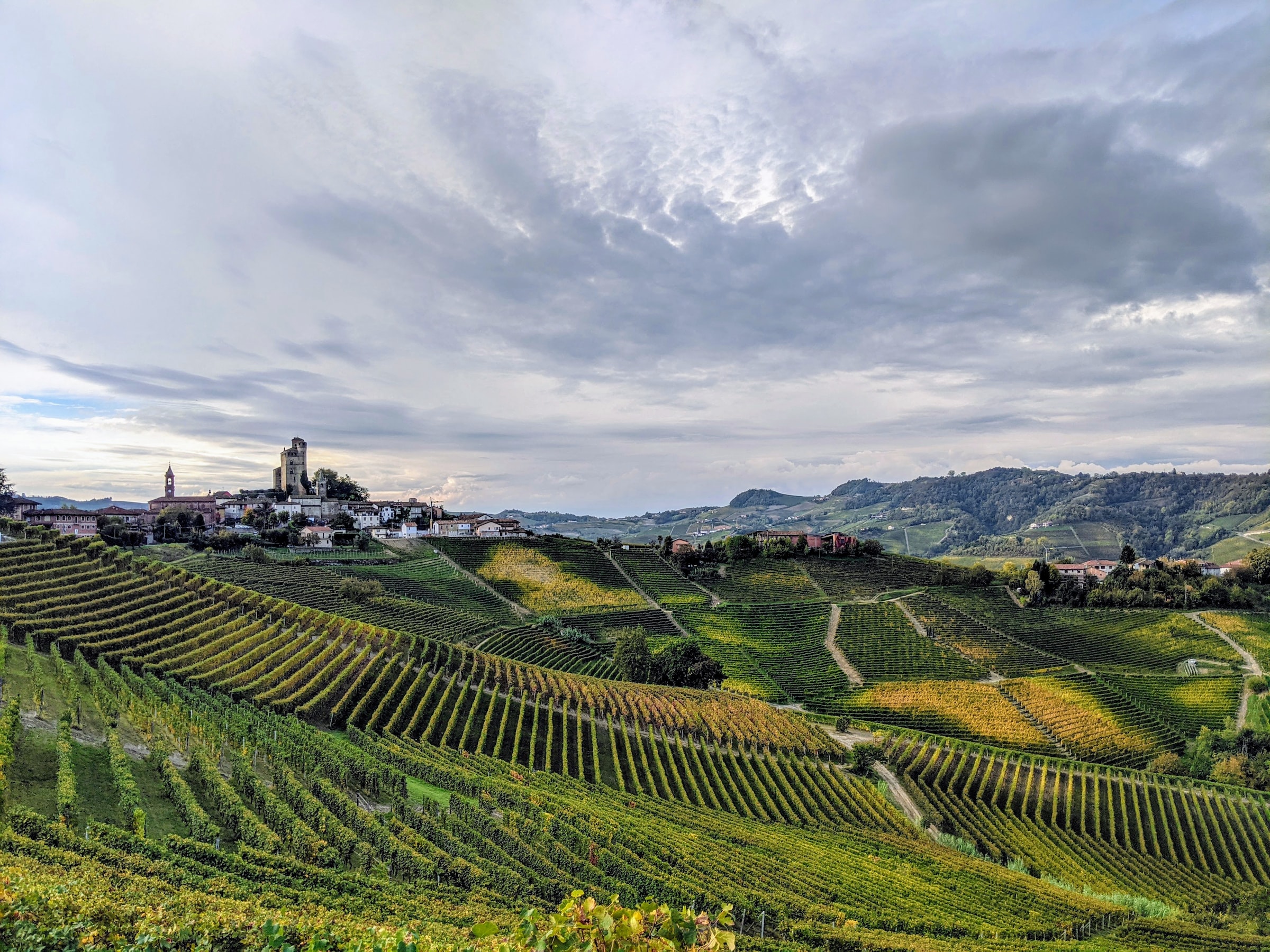 Typically, my stories start with some point of interest or a personal insight or two. As we're in my old home province of Piedmont – I'm starting differently… with a list of ingredients and some instructions. After all, what is more inviting than a good old Italian recipe?

This one describes how to make the perfect getaway: an escape from the hustle and bustle. The end result is a soothing, restorative experience that will linger on the palate, resonate in the soul, and delight the mind for years to come.
Let's get to it…
Ingredients required: 

1 world famous wine region

1 medieval castle
1 attendant hilltop town 
a choice of 3 or 4 places to stay
dozens of authentic eateries
Inclusion of these special delicacies is optional:

a) risotto

b) truffles 
c) Barolo wine 
Suggested instructions: 

Get There
Serralunga d'Alba is easily accessed from Milan, Torino. The town is tiny – under 600 residents – and other than absorbing its history and visiting its castle, touring the surrounding winelands is the reason most people make this trip. So hiring a car is advised. But you can take a bus or taxi, and then hike the area. 

Book a place to stay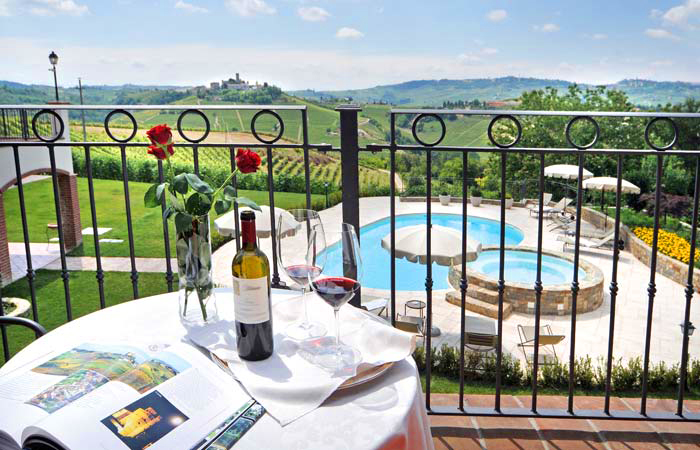 Antico Podere Tota Virginia
We loved I Grappoli, an unassuming B&B about a mile from town. The rooms are big, comfy and well-appointed, some with self-catering facilities… and the views from our balcony were quite special: across the vineyards to the elegant Serralunga Castle. The buffet breakfast is lavish, the coffee spectacular, and their own wine, in a region so spoilt for choice, stands up just fine.
La Rosa Dei Vini restaurant is just a 50m saunter away. If I had to describe in one word, that word would be: risotto!
Alternatively, immerse yourself in this magical land at another B&B, Tota Virginia Antico Podere.  Even if you don't stay here, which would be a mistake in my books, do eat at their restaurant – in a setting redolent with the smell of truffle – and so I immediately extend that same recommendation to you. Alongside one of the most extensive wine lists you'll ever see is food rivaling that of any restaurant in the area. 
As expected from its 4-star billing, the accommodations are also on point. 
In a rural heartland like this one, a shout-out must be given to agri-tourism. Staying on a farm in the Langhe is a most natural thing to do. As a counterpoint to the medieval castle, La Bioca is practically brand new. It pampers guests with food, wine, comfy rooms, Wi-Fi, private bathrooms, showers, free toiletries and a fridge.
We've also heard good things about Le Torri - Castiglione Falletto. Nestled in the vineyards guests are treated to quite an experience come harvest time as the hills come alive with activity. But, despite the activity, comfort is always made a priority. The necessary luxuries of modern life are all in place, and the rooms private, so your stay remains as tranquil as you choose.  

Eat and Drink
In this case, I referenced your dining spots in the previous section; and even there I wasn't overly specific… because food and drink is just so integral to this entire region. The Langhe is studded with estates, each offering a stellar selection of wines, cheeses, meats, fruit, you name it. The locals are salt of the earth, culinary method has been passed down, gourmet cooking is second nature. So I rather just mention the regional specialties, like risotto, like truffles, like Barolo, Barbaresco, Nebbiolo…
and guaranteed sublime cuisine wherever you go. 
This is the cradle of the slow food movement, so food in general is respected, meticulously prepared, and unhurriedly served. Its just part of the culture here, an accepted norm.
Follow your nose
Staying with food for the moment: the annual white truffle fair happens in the nearby town of Alba every October/November. It's a big drawcard, attracting huge crowds. Your tranquility may be interrupted by an influx of truffle-lovers, but the atmosphere is just so catchy. My advice: if you can't beat 'em, join 'em. 
It's a brilliant festival. 
Explore the great outdoors
Remember what I said about hiking? Well, winding through the Langhe vineyards are marked trails, extending from village to village, that can be ridden or walked.   
These stunning winelands are ideal terrain for all you outdoorsy types and there are so many great villages to explore nearby;: places like Barolo , Alba and Neive. Even lovely little Saluzzo is only an hour's drive away.
A good option is to join one of the local wine and truffle tours, most of them leave from nearby Alba: click here for the one that I recommend.
Go to town...
Not forgetting the town of Serralunga d'Alba itself: a tiny, charming, timeless town, spreading from the base of its elegant protector. A guided tour of the iconic castle takes one back to its medieval heyday, when the ruling Falsetti family held court over an important commercial center. It's quite a walk to the top, rewarded by a panoramic view of the most beautiful winelands in the world.
Of course, no tiny Italian town is without its church. The 19th century Chiesa Parrocchiale di San Sebastiano is modern by comparison, but definitely worth a look-see… as is everything in Serralunga d' Alba. 
Luckily, Serralunga d' Alba is small enough to see everything.
Buon Appetito!
Where is Serralunga d'Alba?