Restaurants in Asti - The Cascinalenuovo

Tel: +39 0141 958166 Fax: +39 0141 958828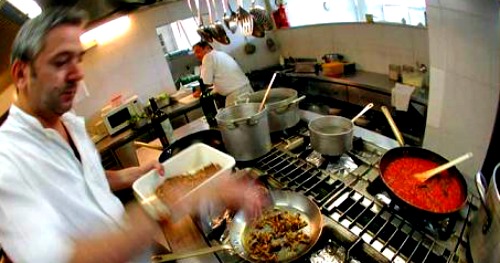 The Cascinalenuovo is perhaps my favorite of the many good restaurants in Asti. It is just a little way outside Asti on the way to Alba. The restaurant has been a labour of love since the family that still runs it opened their doors back in 1968.
Initially run by Armando and his wife Silvana, the restaurant is now in the hands of their two sons – Walter and Roberto.
Walter is a great chef and runs things in the kitchen – see picture above - while Roberto is in charge of the impressive wine cellar.
The cuisine at Cascinalenuovo is Italian, but most of the great Piedmont classics are still on the menu. The menu begins with antipasti – try the zucchini flowers with a tomato filling for a real taste extravaganza.
Next up are the starters – my favourite is the agnolotti del plin which is one of Piedmont's most famous dishes.
Main courses are always great; my tip is to try the duck or tuna.
Desserts; everything is good though the panna cotta stands out, no thick and stodgy nonsense here – just melt in your mouth delicious.
In season they have a great six or seven course meal consisting of dishes made of Truffles – this area being at the heart of truffle country. Not the cheapest but really worth it if you have never really had a chance to eat truffles. It is hard to beat eating truffles in the heart of the world's most famous truffle area and in the dishes that they have been used in for centuries. 
Follow their advice with wine too, they no exactly what pairs with each one of their dishes.

How about a little bit of Italy in your inbox, once a month, and totally free? Sign up for our newsletter below...

If you enjoy my site I'd love your support.

All you need do is book your accommodation via this link, or any of the other hotel links on the website. Whether it's for travel to Italy... or anywhere else on earth, your support means the world to us.
You'll get the best deal available, and the income helps us stay independent and to keep bringing you the best of Italy.