The Best Italian School?
The Best Italian school in Sardinia? The Italiano in Riviera school is one of them and one of only a handful of language schools that I feature in Sardinia.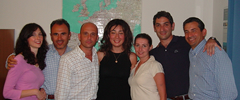 The school, situated in the delightful town of Alghero, has been teaching languages for ten years and specializes in teaching Italian as a second language.

Great progress has been made and the school does everything right; offering small classes, of never more than eight students, taught by well qualified Italian mother tongue teachers.
The school's Director, Piermario Cesaraccio really will go out of his way to make your time here rewarding and special.
Particular focus is placed on getting the students to be able to converse in Italian as quickly as possible.
Grammar, reading and the rest is not neglected but the main aim is that students leave the school able to hold a conversation in Italian.
I feel it is an excellent focus; after all don't you want to learn Italian so that you can speak it?
So many schools push the grammar and writing/reading part resulting in you perhaps being able to write someone a nice letter in Italian but not being able to string a spoken sentence together.
The school could not be better located, just five minutes walk from both the lively Alghero old town and beach.
A good idea is to combine your Italian language course with one of the schools courses on surfing and sailing - for the more adventurous these courses are fabulous.
Cookery courses are popular too, exploring the little known Sardinian culinary traditions as well as Italian cooking in general.
If you would like more information on the school you can contact me.

If you enjoy my site I'd love your support.

All you need do is book via the search box below, or any of the hotel links elsewhere on the website. It can be for travel to Italy... or anywhere else on earth.
You'll get the best deal available and the income we receive helps us to stay independent and to keep bringing you the best of Italy.