The Best Italian School?
The best Italian school in Sardinia? The Italiano at Riviera School is certainly one of them, and it is the only language school that I feature in Sardinia.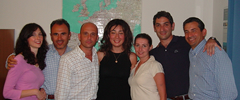 Nestled in the charming town of Alghero, this school has been a beacon of language education for a decade, specializing in teaching Italian as a second language. With a commitment to excellence, the school has adopted a winning formula, offering small classes limited to a maximum of eight students, led by highly qualified native Italian teachers.
Piermario Cesaraccio, the school's Director, personally ensures that your time at the school is both rewarding and unforgettable. The school's emphasis lies in enabling students to converse confidently in Italian at the earliest opportunity. While grammar, reading, and other aspects are not neglected, the primary goal is for students to leave the school equipped to hold meaningful conversations in Italian.
Isn't that the ultimate objective of learning Italian? Many institutions place excessive focus on grammar and written proficiency, leaving students struggling to express themselves verbally. At The Italiano at Riviera School, communication takes precedence, enabling you to truly embrace the language. Before you know it you will be chatting away like one of the locals.
Moreover, the school boasts an ideal location, a mere five-minute walk from the vibrant Alghero old town and the beautiful beach. Alghero old town is wonderful, it is steeped in history and charm. Its cobblestone streets, fortified walls, and medieval architecture transport you to another era. Explore the vibrant piazzas, discover quaint boutiques and art galleries, and savor the delectable flavors of traditional Sardinian cuisine in the town's atmospheric restaurants. Alghero's old town is a delight, and on a summer's night, the area comes alive with visitors and locals enjoying the "movida," as they call it here. The word is of Spanish origin and basically refers to all the people enjoying the social fun of a warm summer's evening, strolling the streets, chatting, and stopping here and there for an aperitivo before the serious business of dinner and maybe a night of dancing at one of the local nightclubs.
For those seeking more adventurous pursuits, combining your Italian language course with surfing or sailing lessons offered by the school is an excellent idea. This area is one of the few places in all of Italy where you can learn to surf and these courses provide an exhilarating way to enhance your existing skills, or learn a new one if you've never tried sailing or surfing before.
Delving into the culinary world, the school also offers popular cookery courses that provide you with a taste into Sardinia's delicious gastronomic traditions as well as Italian cuisine in general. Expand your culinary repertoire while learning Italian—a truly delectable combination.
If you enjoy my site I'd love your support.

All you need do is book your accommodation via this link, or any of the other hotel links on the website. Whether it's for travel to Italy... or anywhere else on earth, your support means the world to us.
You'll get the best deal available, and the income helps us stay independent and to keep bringing you the best of Italy.