Study Italian in Italy

The Scuola Italia - Urbania, Le Marche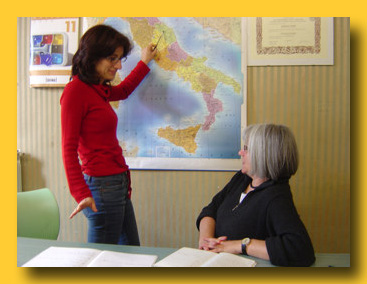 The Scuola Italia is to be found in one of the most scenic parts of Le Marche, surrounded by the rolling hills of the Le Marche countryside yet in the ancient heart of one of Italy's loveliest towns – Urbania.
The School
You won't find any unnecessary bureaucracy or formality here. This is a small, down to earth and very friendly place run by a group of bubbly thirty something ladies and Roberto.
The small size means a great deal of flexibility – allowing them to tailor classes or private lessons to fit your needs.
All the teachers are language graduates and very experienced, classes are small and there are a whole lot of interesting excursions around the area that the school will organize for you as part of your course.
Somehow the school always manages to make your lessons and your days interesting and enjoyable – even grammar is made as exiting as grammar can possibly be.
This is not only a language school, so if you fancy yourself a bit of an opera star then their month long opera course is for you. If you are like me and singing is best avoided then perhaps the Italian cooking courses or the painting courses would be more appropriate. This area has a rich artistic tradition and the absolutely lovely nearby town of Urbino was once home to Raphael (Raffaello Sanzio).
Accomodation

Scuola Italia will help you with all your accommodation needs. They either organize a stay with a local family; this is the option I would recommend in that it ensures total immersion and is great value. If you prefer more privacy then the school will assist you to find a hotel.
Why this Town?

Being a small town, where few locals speak English, is a great advantage and ensures that a week here will see you making the most remarkable progress.
Take the month course, if you have the time, and by the end of it I can guarantee that you will feel like one of the locals and be chatting away to them too...in Italian!!. Problem is though, you will almost certainly not feel like leaving.
For more on the school you can contact me below.


For more Italian language schools click here.
Please be so kind to support our family through difficult times when you next travel.
All you need do is book via the search box below, or any of the hotel links elsewhere on the website. It can be for travel to Italy... or anywhere else on earth.
You'll get the best deal available and the income we receive helps us to:
Stay independent and to keep bringing you the best of Italy.
Never have to accept money from hotels directly - meaning that we can share only those we genuinely love.
Mar 15, 21 08:26 AM

Mar 08, 21 09:34 AM

Mar 04, 21 07:05 AM

The Sacra di San Michele looms menacingly over the entrance to the Val di Susa in Piedmont. Legend has it that it was built by angels.

Mar 03, 21 08:40 AM

Everyone knows the Cinque Terre and the Amalfi Coast but there is somewhere just as lovely with hardly any tourists? It's Tellaro!

Mar 02, 21 11:40 AM

What are the tax rates in Italy? Are there tax incentives for moving to Italy? What about inheritance tax? All your questions about tax in Italy answered.

Mar 01, 21 03:45 AM

There are hill towns in Tuscany where life goes on as it always has, where few tourists venture. Yet this Tuscany enchants as much as the other and maybe more?