How to Learn Italian?
Dante Alighieri School – Mondavio
This is a great school to learn Italian. I cannot praise them highly enough. I myself learnt Italian through the Dante Alighieri School and their teaching methods are phenomenal - visit their site for more.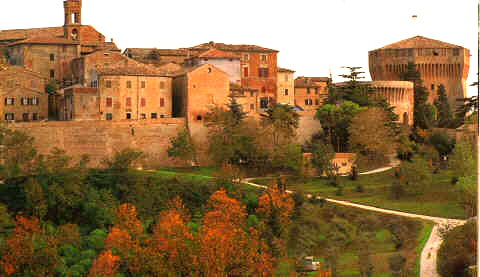 The school is located in the picturesque village of Mondavio, nestled within the captivating Le Marche region of Italy. The Le Marche region is one of the loveliest of all Italian regions, our guide to Le Marche shares why I love this corner of Italy so dearly.
In addition to discovering the enchanting landscapes, stories, and history of Le Marche, the school provides an invaluable opportunity to explore the beauty of the Italian language and culture. Before you know it you'll be sharing your stories too... in Italian!
The school's dedication to the communicative aspect of the Italian language is evident in their comprehensive language courses catering to all proficiency levels. From absolute beginners to aspiring Italian teachers, the experienced instructors will have you confidently speaking Italian in a far shorter period than you would have imagined possible.
One other aspect that sets the Dante Alighieri School of Mondavio apart is its commitment to immersing students in the local culture. The range of courses available is impressive, with options such as the Italian cooking and language course and the opera and Italian course. These courses offer an enticing blend of language learning and cultural exploration, allowing you to delve into the heart of Italian traditions and artistic heritage and really feel what it means to be Italian. You leave the school not only speaking a new language but also with a heart that will forever be a little bit Italian.
The Italian cooking and language course is particularly enticing, offering a unique opportunity to learn Italian while diving into the flavors of local Marche and Italian cuisine. Students gain not only linguistic fluency but also a deeper understanding of the culinary delights that make Italy famous worldwide.
For opera enthusiasts, the opera and Italian course is a dream come true. The course provides an immersive experience, including visits to captivating opera performances, where students can appreciate the power and beauty of Italian opera firsthand.
Even for those focused solely on language learning, Dante Alighieri School of Mondavio goes the extra mile. The language-only courses offer an array of complimentary extras, including guided excursions to nearby towns, cultural evenings, and opportunities for gastronomic exploration, such as wine tastings.
The strategic location of the school allows for convenient exploration of nearby enchanting destinations such as Urbino and Corinaldo. Additionally, being just a short drive away from the seaside adds to the appeal of this location, offering a refreshing escape for students. These additions enrich the learning experience and provide a broader understanding of Italian culture and traditions.
Furthermore, Dante Alighieri School of Mondavio stands out for its warm and dedicated staff. Their passion for teaching the Italian language and sharing their culture shines through, creating a supportive and inspiring environment for students.
If you are seeking a transformative language and cultural experience in Italy, Dante Alighieri School of Mondavio is the perfect choice. With its commitment to linguistic excellence and cultural immersion, this school will unlock the beauty of the Italian language and introduce you to the captivating world of Italian traditions, leaving you with cherished memories and valuable skills for a lifetime.
Please contact the school here for more details.


If you enjoy my site I'd love your support.

All you need do is book your accommodation via this link, or any of the other hotel links on the website. Whether it's for travel to Italy... or anywhere else on earth, your support means the world to us.
You'll get the best deal available, and the income helps us stay independent and to keep bringing you the best of Italy.