How to Learn Italian?
Dante Alighieri School – Mondavio
This is a great school to learn Italian. I cannot praise them highly enough. I myself learnt Italian through the Dante Alighieri School and their teaching methods are phenomenal - visit their site for more.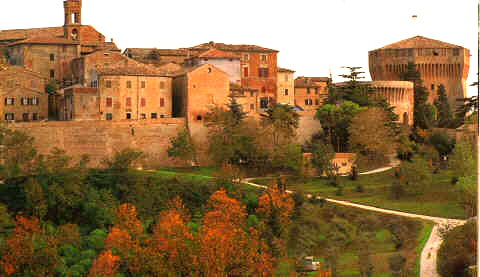 The Dante Alighieri School of Mondavio focuses on the communicative aspect of the language. Even if you start from zero you will soon be able to converse in Italian. The school offers language courses for all levels - they even train Italian teachers!
Location could not be better either. It is set in one of the most beautiful parts of Italy, within the little village of Mondavio. The town, and surrounding area, is simply a joy to experience - this is the Italy we all dream of.
Some of the best courses are those that teach Italian and an aspect of Italian culture. Perhaps the best of these is their Italian cooking and language course. The course, apart from teaching you Italian, will also teach you a whole lot about local Marche and Italian cooking.
Another great option is their opera and Italian course. If you like opera then this is for you. It includes, amongst much else, two visits to the opera. The wine tasting course that the school offers as an add-on is also worthwhile. Great if you are a wine lover - which I definitely am.
Even the language only courses offer a lot of free extras - including excursions to surrounding towns, cultural evenings and a little gastronomy and wine tasting to name but a few. The location of the school means that it is ideal to visit the enchanting areas nearby – places like Urbino, Gubbio etc. A nice bonus is having the seaside is only a twenty minute drive away.
Please contact the school here for more details.


Please be so kind to support our family through difficult times when you next travel.
All you need do is book via the search box below, or any of the hotel links elsewhere on the website. It can be for travel to Italy... or anywhere else on earth.
You'll get the best deal available and the income we receive helps us to:
Stay independent and to keep bringing you the best of Italy.
Never have to accept money from hotels directly - meaning that we can share only those we genuinely love.
Mar 15, 21 08:26 AM

Mar 08, 21 09:34 AM

Mar 04, 21 07:05 AM

The Sacra di San Michele looms menacingly over the entrance to the Val di Susa in Piedmont. Legend has it that it was built by angels.

Mar 03, 21 08:40 AM

Everyone knows the Cinque Terre and the Amalfi Coast but there is somewhere just as lovely with hardly any tourists? It's Tellaro!

Mar 02, 21 11:40 AM

What are the tax rates in Italy? Are there tax incentives for moving to Italy? What about inheritance tax? All your questions about tax in Italy answered.

Mar 01, 21 03:45 AM

There are hill towns in Tuscany where life goes on as it always has, where few tourists venture. Yet this Tuscany enchants as much as the other and maybe more?