A Walking Tour of Turin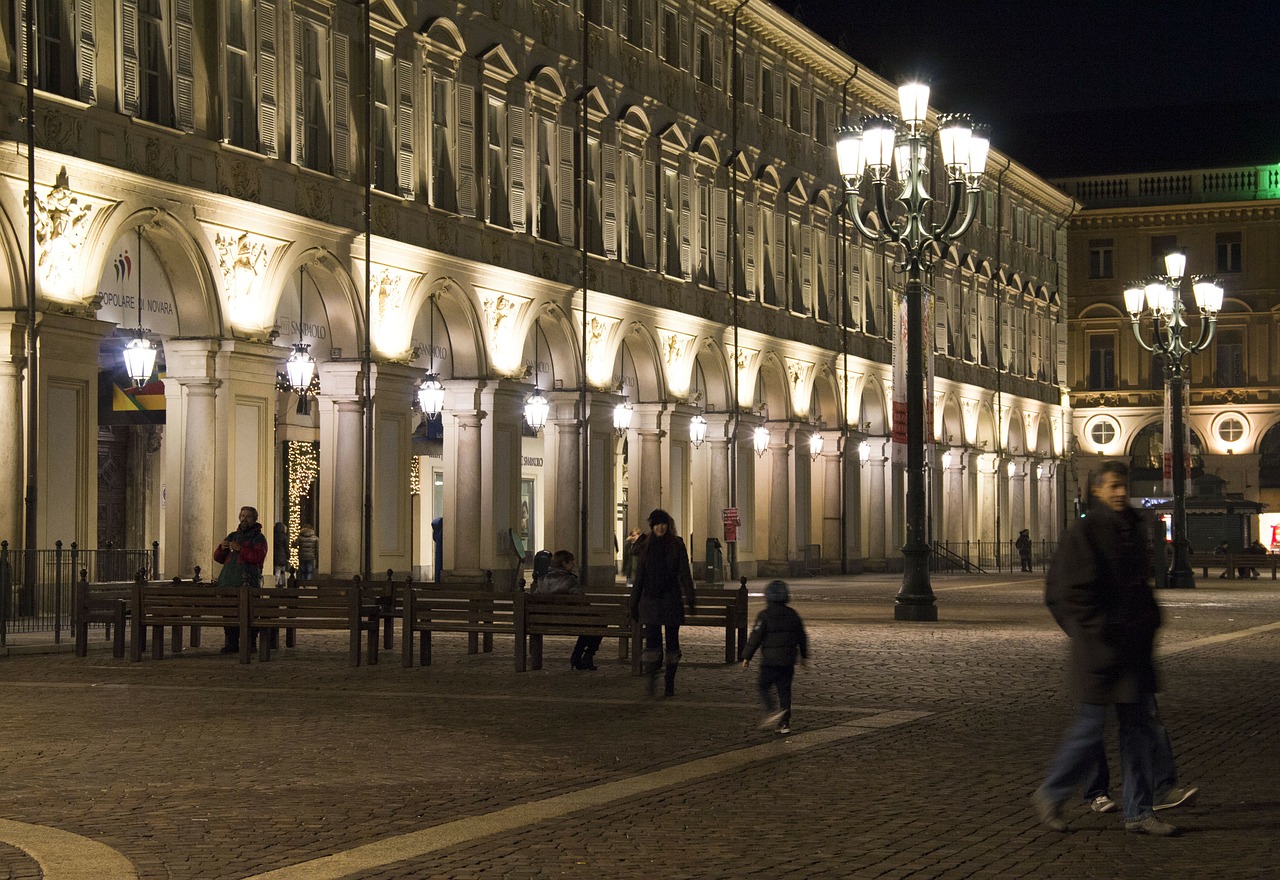 The best walking tour of Turin starts by the main station Porta Nuova and heads on up the elegant Via Roma towards Piazza Castello - see foot of page for a map of the area.
Via Roma is THE shopping street in Turin, my wife loves it and my bank account hates it. All the big names of Italian fashion and then some are here. Also some very tempting food stores, though I wouldn't do your shopping here before reading my wife Maria's Turin shopping guide for all the inside info.
Carry on up via Roma until you reach the seventeenth century Piazza San Carlo (Carlo Felice) with it's famous rearing horse with the Savoy Duke Filiberto in the saddle.
The piazza is known as the "Drawing Room" of Turin, its elegance often compared to Place Vendôme in Paris. It has been the hang-out of Piedmont's intellectuals and the rich and famous for centuries.
While you are in the piazza do pop into the wonderful but expensive Caffè San Carlo.
Two gorgeous sixteenth century churches, the so-called "Twin Churches", look out on the piazza (see photo at top). One is the masculine San Carlo and the other the feminine Santa Cristina.
Carry on walking along the left side of Via Roma to Piazza Castello before returning back to Piazza San Carlo up the other side of the road – just so you don't miss any of the expensive shops. Once you get back to Piazza San Carlo your wallet should be considerably lighter.
From Piazza San Carlo turn left into Via Maria Vittoria, this is a quite and very upmarket street lined with lovely art galleries and antique shops.
Personally I would suggest rather doing your antique shopping at the market in Porta Palazzo – Piedmont's and indeed Europe's largest open air market, far cheaper than the city centre and the site of the famous Balon flea market, held every Saturday morning and on the second Sunday of the month.
Along Maria Vittoria the church of San Filippo Neri is lovely. Built in 1675, it was restored by Juvarra after the dome collapsed. Opposite the church is Palazzo Carpano dating to 1684 and designed by Michelangelo Garove.
Now head back towards Piazza San Carlo and turn right just before the Piazza into Via Accademia delle Scienze, this street houses the 16th century Palazzo dell'Accademia delle Scienze (Academy of Science), and is home to two great Piedmont museums. The Egyptian Museum (Museo Egizio) and the Sabauda Gallery. For more on Turin's museums visit our museum guide .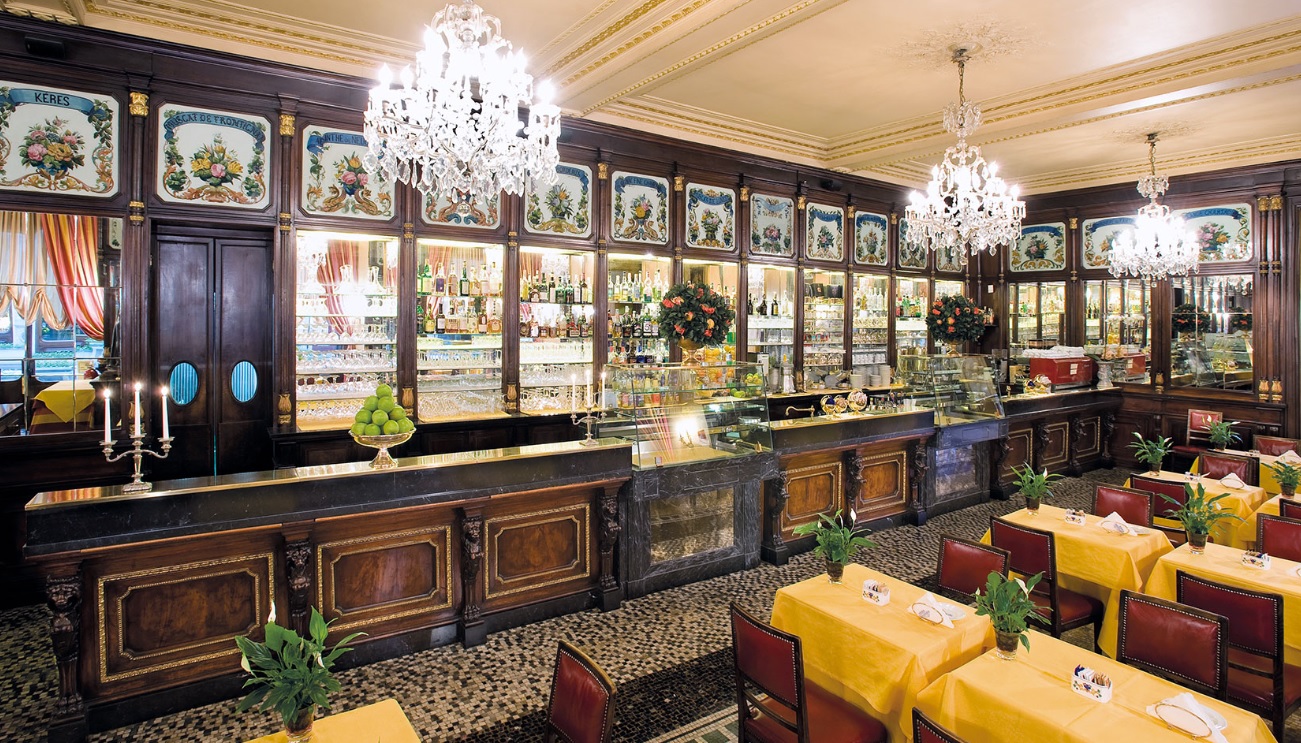 Keep on up Via Accademia delle Scienze until you get to Piazza Carlo Alberto and pass through the piazza into the light-filled and elegant Galleria Subalpina built in 1873 by Pietro Carrera, who planned it as a bazaar.
At the end of the gallery where it opens onto Piazza Castello you will find another one of Turin's legendary cafés the wonderful Turin liberty style Baratti & Milano.
This is the place that invented the delicious Cremino chocolate.
Chocolate this good is hard to find outside of Piedmont. If you would like to try some visit our chocolate guide.

The walk is now done and I have gone off at a tangent, as I often do, about chocolate.

For another walking tour of Turin/Torino please click here.
Recommended Guided Tours 
Map of the Area the Walk Covers
Looking for more on Turin, other walking tours in Italy or anything else ? Try our site search engine.
Please be so kind to support our family through difficult times when you next travel.
All you need do is book via the search box below, or any of the hotel links elsewhere on the website. It can be for travel to Italy... or anywhere else on earth.
You'll get the best deal available and the income we receive helps us to:
Stay independent and to keep bringing you the best of Italy.
Never have to accept money from hotels directly - meaning that we can share only those we genuinely love.
Mar 15, 21 08:26 AM

Mar 08, 21 09:34 AM

Mar 04, 21 07:05 AM

The Sacra di San Michele looms menacingly over the entrance to the Val di Susa in Piedmont. Legend has it that it was built by angels.

Mar 03, 21 08:40 AM

Everyone knows the Cinque Terre and the Amalfi Coast but there is somewhere just as lovely with hardly any tourists? It's Tellaro!

Mar 02, 21 11:40 AM

What are the tax rates in Italy? Are there tax incentives for moving to Italy? What about inheritance tax? All your questions about tax in Italy answered.

Mar 01, 21 03:45 AM

There are hill towns in Tuscany where life goes on as it always has, where few tourists venture. Yet this Tuscany enchants as much as the other and maybe more?