Tomato Based Sauce for Pasta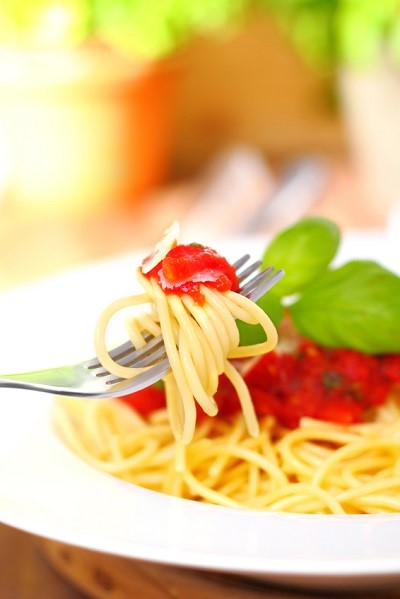 Honestly, there are times when nothing is better than a simple pasta dish with a tomato based sauce.  Why complicate thing when many of the greatest Italian recipes are also the simplest. As Leonardo da Vince said: "Simplicity is the ultimate sophistication."
This recipe is an old favourite of mine and will take you absolutely no effort at all to put together. It'll be ready and waiting in the time it takes to cook the pasta.
I suggest you make plenty too because if your family is anything like mine they'll want plate after plate of it.
Maria 
Enjoyed the recipe? Please click like below! 
Ingredients
One tin of chopped tomatoes from Italy
Tablespoon of tomato paste
8 fresh baby tomatoes
1 clove garlic
1 chilli pepper ( you can leave this out or add in more - depends on your taste for fiery things)
Olive oil
Salt
Parma ham to taste - optional. You can leave it out or add olives instead or even add olives AND Parma ham!
3 cups of rocket (known as arugula in the USA)
1/3 of a cup basil; chopped fresh is best
freshly grated good quality Parmesan cheese or Grana Padano
Quantities serve 4-6
Cooking Instructions
Put the pasta on to cook in a pot of water. Use your favourite pasta which should be cooked al dente (is there another way?),  I normally use penne or spaghetti but the choice is yours.
Roast tomatoes until soft and sweet in olive oil, add in the garlic cloves and chilli pepper. My mamma sometimes adds mushrooms once the garlic starts to take color.
Pour in the tin of chopped tomatoes and the tomato paste and finally some salt and basil.
 Drain the pasta and mix it up with the sauce adding in parma ham and rocket.
Serve with shaved Parmigiana Reggiano (Parmesan) or Grana Padano and if you want to make it look fancy add some fresh basil leaves.
The result is one of those pasta sauces that is a real summer treat. It is also a favorite if you need a quick sauce for dinner after a long day at work. 
Print this recipe...

---
If you enjoy my site I'd love your support.

All you need do is book your accommodation via this link, or any of the other hotel links on the website. Whether it's for travel to Italy... or anywhere else on earth, your support means the world to us.
You'll get the best deal available, and the income helps us stay independent and to keep bringing you the best of Italy.