Chicken Cacciatore Recipe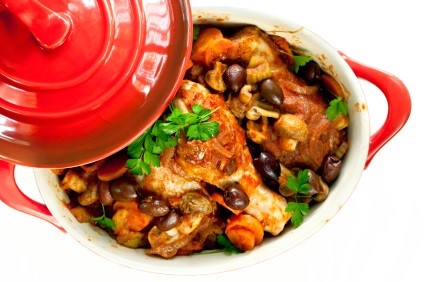 A very simple Italian chicken recipe that is a firm favorite in our home and Maria (my wife) always prepares it this way.
Whenever I know this is on the menu I always make sure I'm home in time for dinner!
As Italian chicken recipes go this is probably the best known but there are some other great chicken recipe like Chicken Valdostana (click for our recipe).

Chicken Cacciatore means hunter's chicken in Italian and basically the name comes from the old days when the hunter would come home with a pheasant for the pot and his wife would add in whatever she'd managed to collect.
You can still use pheasant too if you prefer. It's actually a lot nicer with pheasant but chicken's easier and cheaper.
Ingredients
2 lbs. chicken pieces

6 Tbs. of olive oil
10 black olives

1 small carrot
1 green pepper
1 red pepper
1 stalk of celery
1 lb. of tomatoes, peeled, seeded, and chopped
salt, pepper
1 bay leaf
1 glass of dry white wine
1 oz. of dried mushrooms
1 clove of garlic
1/2 cup of chicken broth
1 Tbs. of chopped parsley
Instructions
1) Wash and dry the cut up chicken pieces. Saute the carrot, celery, peppers, olives, onion and garlic in the olive oil. When tender, but not crisp, add the chicken pieces, salt and pepper, bay leaf and let brown over high flame.
2) Add the white wine and when the wine has evaporated, add a few mushrooms, the tomatoes and the 1/2 cup of chicken broth. Cook for about 1 hour over a medium heat.
3) When ready remove from heat, add the chopped parsley and arrange in a heated serving platter.
Print this recipe...

---
Like this recipe? Why not sign up for my FREE monthly newsletter below...

Please be so kind to support our family through difficult times when you next travel.
All you need do is book via the search box below, or any of the hotel links elsewhere on the website. It can be for travel to Italy... or anywhere else on earth.
You'll get the best deal available and the income we receive helps us to:
Stay independent and to keep bringing you the best of Italy.
Never have to accept money from hotels directly - meaning that we can share only those we genuinely love.
Mar 15, 21 08:26 AM

Mar 08, 21 09:34 AM

Mar 04, 21 07:05 AM

The Sacra di San Michele looms menacingly over the entrance to the Val di Susa in Piedmont. Legend has it that it was built by angels.

Mar 03, 21 08:40 AM

Everyone knows the Cinque Terre and the Amalfi Coast but there is somewhere just as lovely with hardly any tourists? It's Tellaro!

Mar 02, 21 11:40 AM

What are the tax rates in Italy? Are there tax incentives for moving to Italy? What about inheritance tax? All your questions about tax in Italy answered.

Mar 01, 21 03:45 AM

There are hill towns in Tuscany where life goes on as it always has, where few tourists venture. Yet this Tuscany enchants as much as the other and maybe more?