Mondavio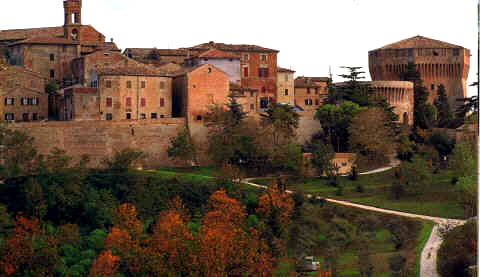 Visit Mondavio and discover one of the loveliest places in Italy. From Ancona enjoy a drive that winds up hill after hill as you move inland.
Mondavio is very impressive as you get nearer. The castle and the three bell towers, all within the perfectly preserved town walls, dominate the surrounding countryside.
It's worth spending, at the very least, a full day in the town. A morning spent wondering the lovely little streets and soaking up the atmosphere can be followed by an afternoon visiting the perfectly preserved castle and its museum.
The medieval castle was the work of the Tuscan architect Francesco Giorgio di Martini and is apparently revolutionary in its design; with a five storey main tower, in the shape of an octagon, dominating the castle.
Other than that there's the little Church of San Francesco and a convent (Il Convento dei Cappuccini) on the edge of town.
If you have the time, and even a week will do,  then this is one of the best places to learn Italian. The local Italian school is in fact one of the selected few under my Italian language section.
Where to Stay & Where to Eat in Mondavio

Definitely stay at the Hotel La Palomba. This hotel is a real bargain, very well run and a friendly home from home.
They've a really good restaurant too serving breakfast, lunch and dinner - it's a great place to try some local dishes. The setting, right next to the swimming pool is lovely. Nothing like sitting out under the trees on a warm summer's evening, glass of wine in hand, good company and good food. 
If you fancy pizza then head to Osteria della Rocca in Via Ridolfi, 3 - they've the biggest and best pizza. You'll not find better anywhere in the entire region. It's a family run place too and right in the heart of the old town. Views from the terrace are unforgettable.
When to Visit?
A great time to visit is during August, it is then the the Hunting of the Wild Boar Festa takes place. If you can't make August then any month of the year is wonderful here - even the winter months.  
Weather-wise May is my favorite - not too hot and flowers add vibrant color to the meadows around town and in the town itself countless window boxes are a profusion of bright hues.  
Share in my FREE monthly newsletter, My Italy Top Tips. It's packed with insider advice on my Italy.