A Country Hotel on the Marche Coast
Relais Villa Giulia
Seldom does the opportunity arise to spend time in a place quite as special as the Relais Villa Giulia. Once home to Napoleon's stepson, the current owners, the children of Marchioness Laura Tacoli di San Possidonio and Count Marco Celio Passi, now offer guests the possibility of sharing in the joy of spending time in this remarkable house/hotel.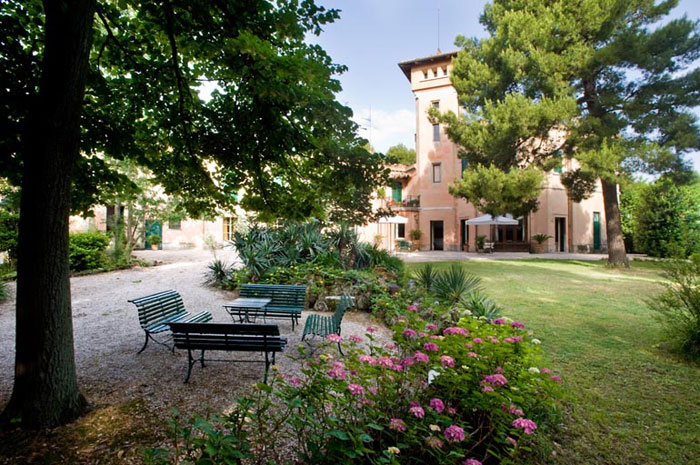 Relais Villa Giulia retains the warmth of the original home, a place where ones dreams and hopes seem magically restored.
A sense of happiness seems to pervade the very atmosphere and a little time spent here will leave you with a lifetime's yearning to return.
Everything that is so special about Le Marche is here, right on your doorstep are panoramic views of rolling hills covered with vineyards and olive groves while the azure sea provides a magnificent backdrop.
The conversion from summer home to hotel has been done with obvious love and great taste, period furnishings are used throughout and the magnificent gardens and grounds too hark back to an earlier and simpler time.
The ancient woods on the estate offer many a romantic walk and quiet spots to reflect. Of particular note are the summer breakfasts, served in the gardens overlooking the sea.
Only 60 kilometers from Ancona, heading north along the Le Marche Coast, the Villa Giulia is the perfect base to explore Le Marche, both the Le Marche coast and the inland areas offer some of the loveliest scenery imaginable. The area around Urbino is a particular favourite of mine but to be honest anywhere you go around here offers truly splendid scenery. The regions of Umbria and Emilia Romagna too are easily explored by car from the Villa Giulia.
If you would rather a little more independence then I would suggest the apartments housed in farmhouses on the Villa's grounds.
I cannot emphasize enough just how wonderful and unique the Relais Villa Giulia is, few are the places that I can recommend with such confidence.
To discover more or make a reservation at this irresistible Le Marche country house click here.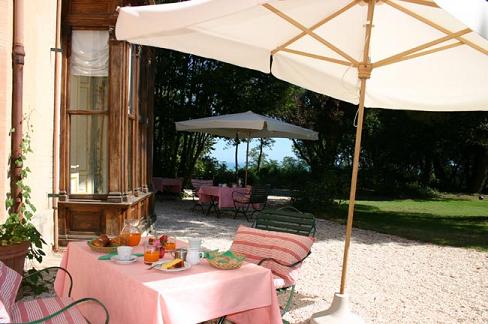 Please be so kind to support our family through difficult times when you next travel.
All you need do is book via the search box below, or any of the hotel links elsewhere on the website. It can be for travel to Italy... or anywhere else on earth.
You'll get the best deal available and the income we receive helps us to:
Stay independent and to keep bringing you the best of Italy.
Never have to accept money from hotels directly - meaning that we can share only those we genuinely love.
Mar 15, 21 08:26 AM

Mar 08, 21 09:34 AM

Mar 04, 21 07:05 AM

The Sacra di San Michele looms menacingly over the entrance to the Val di Susa in Piedmont. Legend has it that it was built by angels.

Mar 03, 21 08:40 AM

Everyone knows the Cinque Terre and the Amalfi Coast but there is somewhere just as lovely with hardly any tourists? It's Tellaro!

Mar 02, 21 11:40 AM

What are the tax rates in Italy? Are there tax incentives for moving to Italy? What about inheritance tax? All your questions about tax in Italy answered.

Mar 01, 21 03:45 AM

There are hill towns in Tuscany where life goes on as it always has, where few tourists venture. Yet this Tuscany enchants as much as the other and maybe more?